Here at West Suburban Community Pantry (WSCP) we are so excited about filling our plate during Hunger Action Month and reaching our 175K Meals Challenge goal. What do we do to help people on a daily basis? We LOVE to answer this question.
From providing food to support services, there are many ways that we touch people's lives every day.
We typically first see people coming through our doors because they have an immediate need for food and groceries.

They may shop in person at our facility in Woodridge or shop for free online through the Virtual Food Pantry. This online resource has been a wonderful way for people to engage with WSCP and get the food they need, delivered in their own community with pick up locations in Bolingbrook, Romeoville, and Woodridge.
Individuals and families come to WSCP for not only food but also for resources that empower them to improve their quality of life.
We approach this by answering the questions: what circumstances led to someone to need food assistance, and how can we help them address these factors to set them up for success and sustainability?
Every individual and family has their unique story, so we take a customized approach to develop a tailored plan for everyone we serve.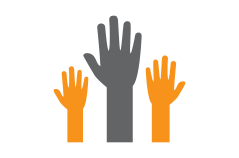 Our Programs and Resources include:
Financial Education and budgeting classes
Financial Assistance to pay utility bills, medical care, food, and gas
Housing
Clothing
Furniture
Employment
Education
Transportation
We have some lofty goals as we help more than 5,500 people each month, and we can't do it alone. Our fantastic volunteers and donors are part of WSCP and make it possible for us to do what we do!
So what would you say YOU do here?
For Hunger Action Month, we are challenging you to help us fill the plates of low-income neighbors in DuPage and Will Counties.
DONATE to the 175,000 Meals Challenge today, and every $1 donated will be matched thru October 20. That means DOUBLE the meals and DOUBLE the impact you can make for your neighbors in need.
We hope you will join us, and that's one thing you can do. Thank you!